Operating Current:
500A CO2/ 450A Mixed Gas
Rear Connector:
Euro Connector Water Cooled
Transport Package:
1set/Box Neutral Packing, 5sets/Carton Box
Origin:
Changzhou Jiangsu China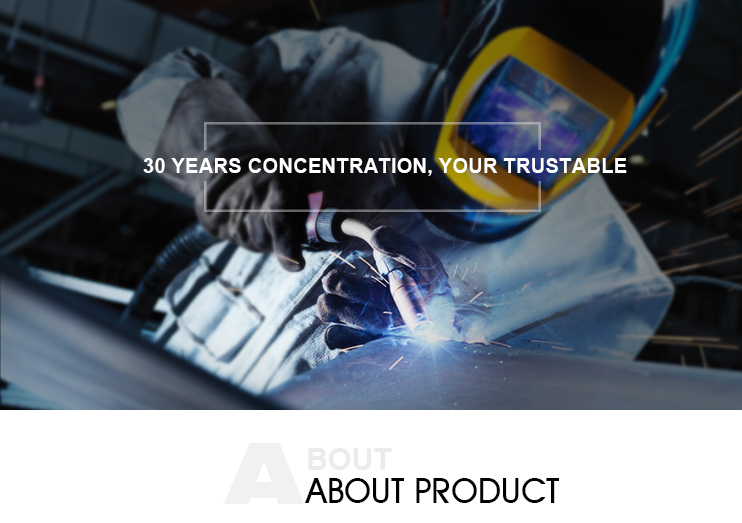 MIG/MAG Welding MB501W Water Cooled Welding Torch For Binzel Type
Item

MIG/MAG HRMB501D Water-Cooled CO2/Mixed Shielded Welding Torch

Rating

500A CO2/ 450A Mixed Gas, Duty Cycle 60% Wire Diameter: 1.0-2.4mm

Rear Connector

Euro Connector

Certification

ISO9001, CCC, CE, ROHS, TUV

Packing

1set/box neutral packing, 5sets/Carton Box

 
 

Welding Gas Nozzle/ CO2 Torch Nozzle

A5011 Â 145.0051

Nozzle Cylindrical

A5012 Â 145.0085

Nozzle Conical

A5013 Â 145.0132

Nozzle Tapered

A5014

Nozzle Bottle

A5015

Nozzle Spot Welding

Welding Contact Tip / Torch Tip

B5011 140.0313

Contact Tip E-CU M8*30*1.0mm

B5012 140.0442

Contact Tip E-CU M8*30*1.2mm

B5013 140.0587

Contact Tip E-CU M8*30*1.6mm

B5014 140.0677

Contact Tip E-CU M8*30*2.4mm

Welding Torch Liner

C5011 Â 124.0026

Red Steel Liner 1.0-1.2mm, 3m

C5012 Â 124.0031

Red Steel Liner 1.0-1.2mm, 4m

C5013 Â 124.0035

Red Steel Liner 1.0-1.2mm, 5m

C5014 Â 124.0041

Yellow Steel Liner 1.6mm,3m

C5015 Â 124.0042

Yellow Steel Liner 1.6mm,4m

C5016 Â 124.0044

Yellow Steel Liner 1.6mm,5m

C5017 Â 124.0051

Green Steel Liner 2.0-2.4mm,3m

C5018 Â 124.0053

Green Steel Liner 2.0-2.4mm,4m

C5019 Â 124.0055

Green Steel Liner 2.0-2.4mm,5m

T5011

Teflon Liner,3m(Blue 1.5/4.0,Red 2.0/4.0,Yellow 2.7/4.7)

T5012

Teflon Liner,4m(Blue 1.5/4.0,Red 2.0/4.0,Yellow 2.7/4.7)

T5013

Teflon Liner,5m(Blue 1.5/4.0,Red 2.0/4.0,Yellow 2.7/4.7)

Welding Torch Spare Parts: Gas Diffuser, Tip Holder, Swan Neck

D50102

Gas Diffuser

D50101 142.0022

Tip Holder

D50103 030.0019

Insulator

D50104 034.0001

Swan Neck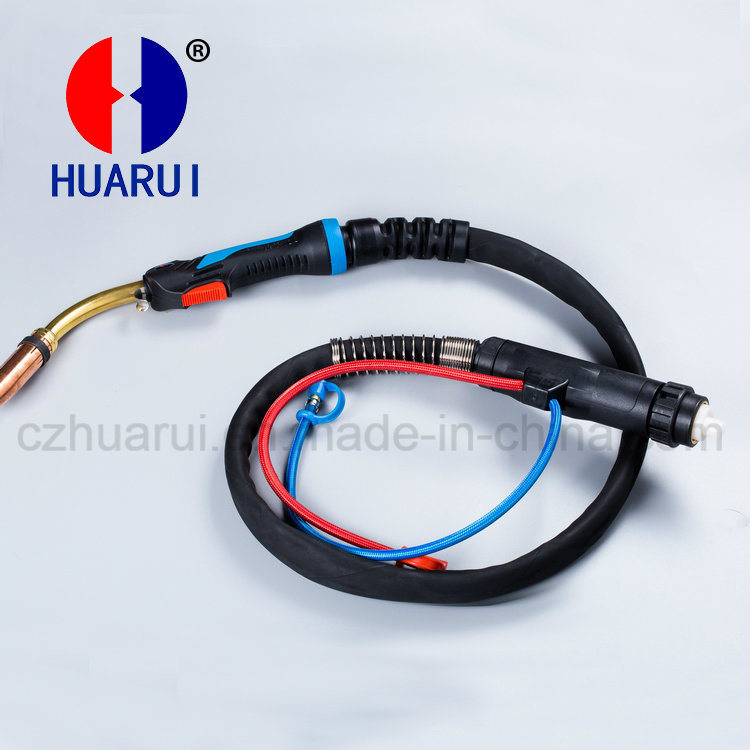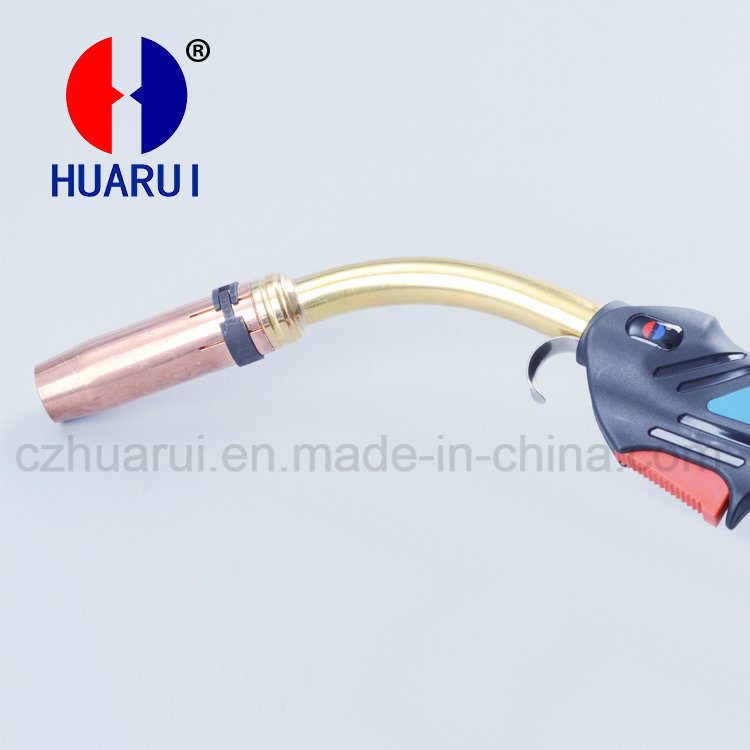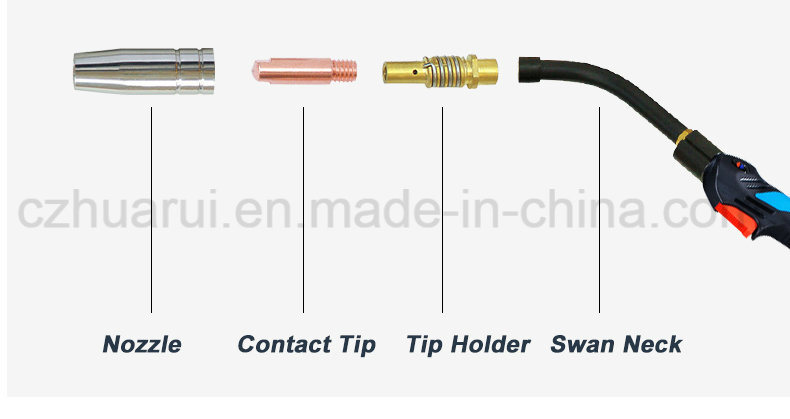 Changzhou Huarui Welding & Cutting Co., LTD



Since the establishment in 1985, we have become one of the biggest manufacturers of welding




and cutting equipment and accessories in China by modern manufacturing equipment and




special technology.

 


We are specialized in manufacturing MIG, TIG, PLASMA, Welding Torches and Spare parts.




With Euro connector, Lincoln connector , Miller connector and Tweco connector, we can fit




different kinds of foreign equipments.


1.MIG Welding Torch


Binzel, Bernard, Tweco, Esab, Lincoln/Tregaskiss, Panasonic/OTC, MAXI, Kemppi, Fronius,




Mechafin.


2.TIG Welding Torch


WP-24, WP-9,WP-17, W

P-26, WP-2

0, WP-18, etc.


3.Plasma Cutting Torch


Trafimet, Cebora, Panasonic/Esab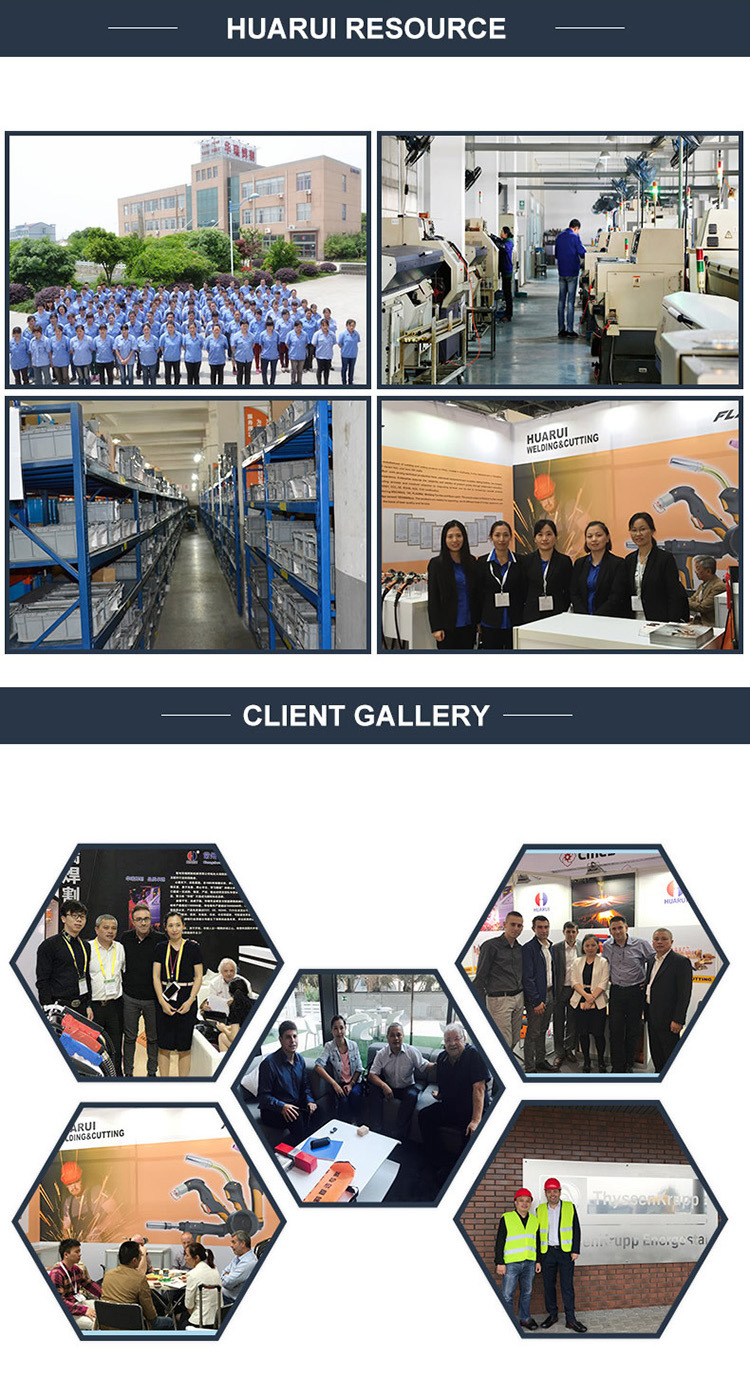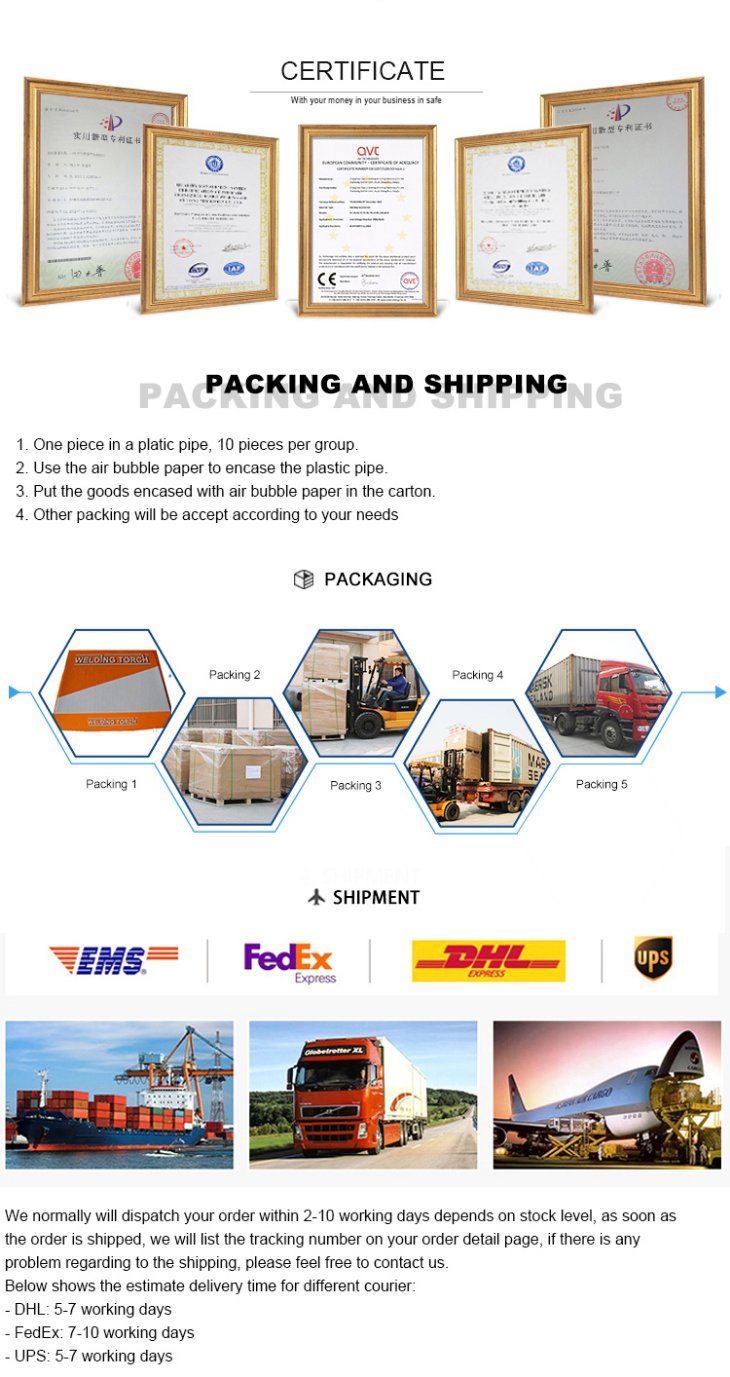 FAQ
Q1: Can I get a samples to check the quality?
A:Sure,we can supply samples. For regular goods, the sample cost is different from the amount
you want. For our new products, there's a MOQ of the samples.
Q2: Can I put my logo on the boxes/cartons?
A: Yes, this can be made according to your requirements, but you should send us the trademark
authorization letter.
Q3: How can you guarantee your products quality ?
A: Huarui's each torch must pass the following tests before packing: Insulation resistance test,
High voltage test, Air/Water flow test, Air/Water seal test.
If there are defective items, we usually credit to our customer or replace in the next shipment.
Q4: What's the order procedure?
A: Firstly, we discuss the details together by e-mail or TM. Then we issue you a PI for your
confirmation or Trade Assurance Order Payment Link. You will be requested to do the pre-paid
full payment before we go into the production. After we get the payment, we start to process the
order. It usually takes 5-15days if we don't have the items in stock.
 
Multi-Stage Centifugal Pump,Horizontal Multi-Stage Centrifugal Pump,Multi-Stage Centrifugal Water Pump
Shenyang pump products sales co., LTD , https://www.syipsc.com