The China-Ukraine (Jiangsu) Ship and Ocean Engineering Transnational Technology Transfer Center is an international technology transfer carrier jointly established by Jiangsu University of Science and Technology and the National Shipbuilding University of Ukraine Makarov. The Ukrainian National Shipbuilding University has a long history and strong professional advantages. It has 24 academicians of the Ukrainian National Academy of Sciences, several members of the Royal Society of Naval Architects and the British Institute of Marine Engineering and Technology.
The main function of the center is to engage in transnational technology transfer operations in the field of ship and ocean engineering. Based on the Jiangsu ship and marine engineering industry, the center introduces, digests and absorbs advanced technological achievements from high-tech ships, high-end marine engineering equipment and related ancillary products, marine new energy development and supporting equipment, marine engineering equipment and new materials and welding equipment. Promote the application in the province; introduce the Ukrainian National Shipbuilding University and other scientific research units in Ukraine to stay in Jiangsu, and cooperate with Jiangsu University of Science and Technology and provincial enterprises to carry out collaborative innovation; actively solve technical problems for the province's enterprises, provide technical advice and services. . The Center will contribute to the improvement of the overall technical level of the Jiangsu ship and marine engineering industry by accumulating innovative resources and enhancing the independent innovation capability of local technology.
Stainless steel thick-film heating tubes of GIDAPE®ANDETONG® series manufactured by JIEDA company are tubular structures, which allows rapid water flow and instant heat carrying. Under the same conditions, GIDAPE® ANDETONG® series has many application advantages, such as large heating area, high heat conduction efficiency (≥98%), rapid thermal response (≥80 ℃~150℃/S), long working life (≥10000 hours), etc.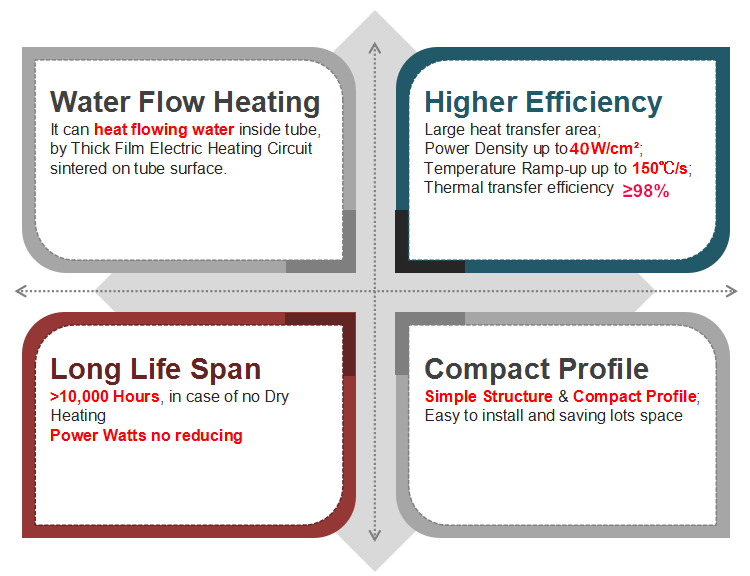 JIEDA 3300W Thick Film Heating Element consists of stainless steel thick-film heating pipe, outer protective shell, water inlet and outlet joints, anti-dry thermostat, power cord, etc. It can be fixed on sides, with 10mm,16mm,G1/2 diameter connecting orifice.
This type of heating body is an intelligent temperature control thick film heating body. It can work with the PCB circuit control system, so that the pre-set temperature and hot water quantity can be decided.
At present, thick film heating tube(heating body) of GIDAPE®ANDETONG® series has been successfully applied to fluid heating field, such as: Instant Hot Water dispenser, quick hot water boiler, pipeline machine, electric heat faucet, kitchen under sink water heater, sous vide, dishwasher, milk machine, coffee machine, dishing industrial equipment and so on.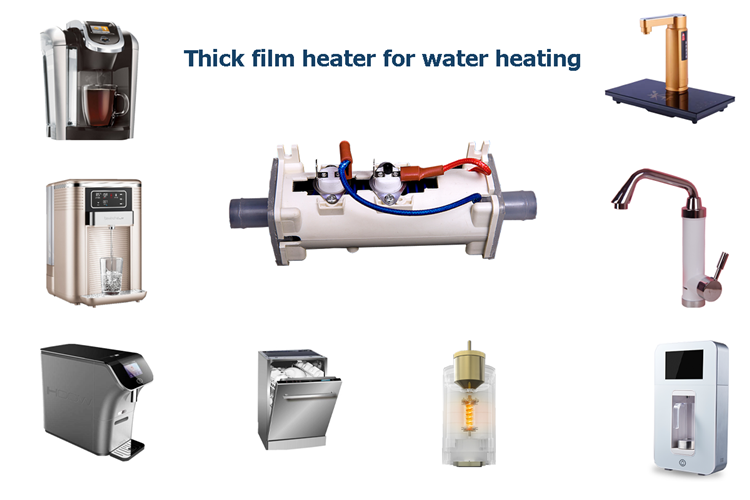 3300W Electric Heating Element
3300W Electric Heating Element,Ptc Heating Element ,Instant Heating Element ,Tubular Heating Element
XINXIANG JIEDA PRECISION ELECTRONICS CO.,LTD , http://www.gidaheater.com